Movie Park Holidays - Holiday parks provider comparison and tips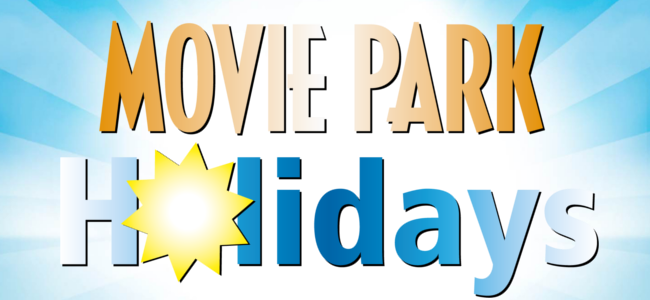 Are you looking for good Movie Park Holidays deals? We have collected all the important information and tipps for you on this site. As we have been to many holiday parks for a long time, we present here information, tips, offers and much more.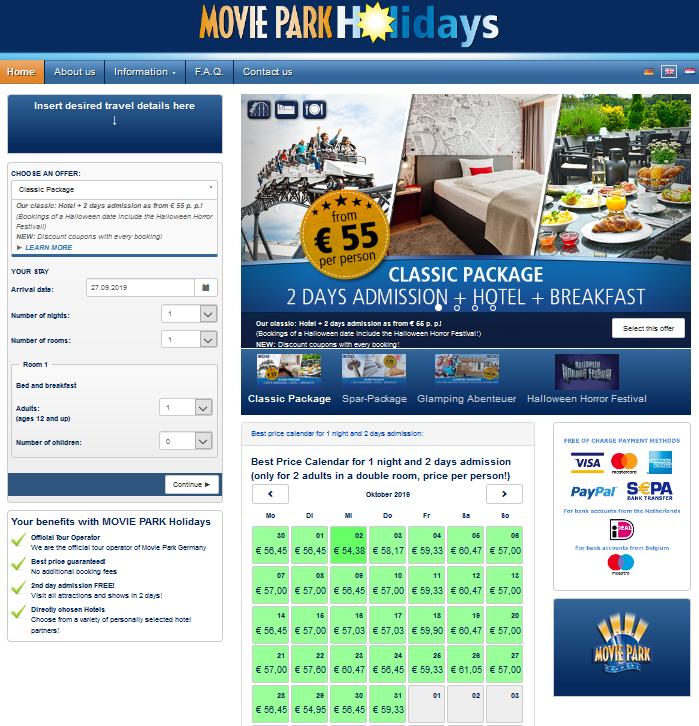 Overview of Movie Park Holidays travel deals
As one of the popular holiday park providers, Movie Park Holidays has become very popular among travelers and families within the last years with its famous Movie Park in Bottrop.
With its extensive leisure offer,the Movie Park Germany is the perfect place to visit all year round. Thanks to the beautiful surroundings and the variety of recreational opportunities, the park offers a variety of excursion options, which can be perfectly used both in the warm and in the cold season.

At regular intervals we also inform you about the various Movie Park Holidays travel offers and promotions. We are also happy to receive your Movie Park Holidays experiences and reviews that we would like to include on this portal.
One of the new highlights of the park is the PAW Patrol Adventure Bay, which we highly recommend. Also recommended is the Glamping Overnight in Park Borken am See which can be combined with a visit to the Movie Park. The PAW Patrol Adventure Bay as a new attraction is especially suitable for families with younger children and can be combined well with a stay in Borken am See.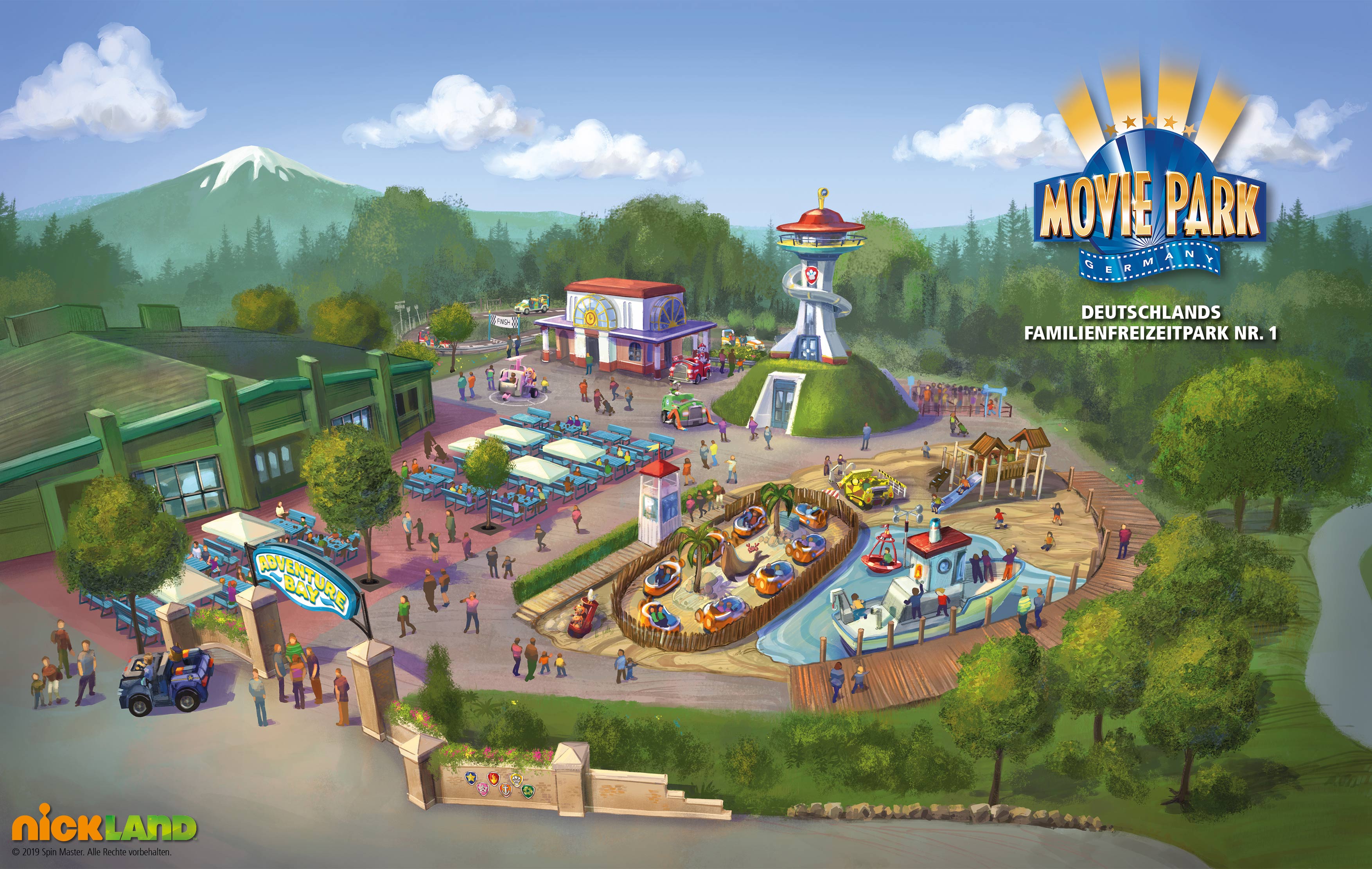 We will continue to expand this section of the portal with the latest travel information for Movie Park Holidays and wish you a pleasant vacation.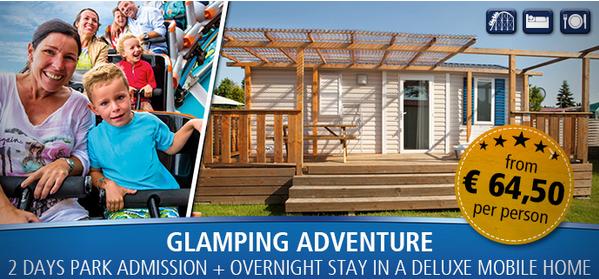 Discover the Glamping offers for the Movie Park Germany - in cooperation with the Camping Park Borken am See.
Overview of the park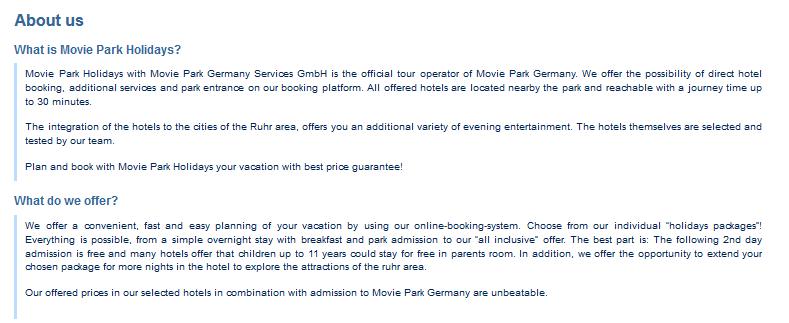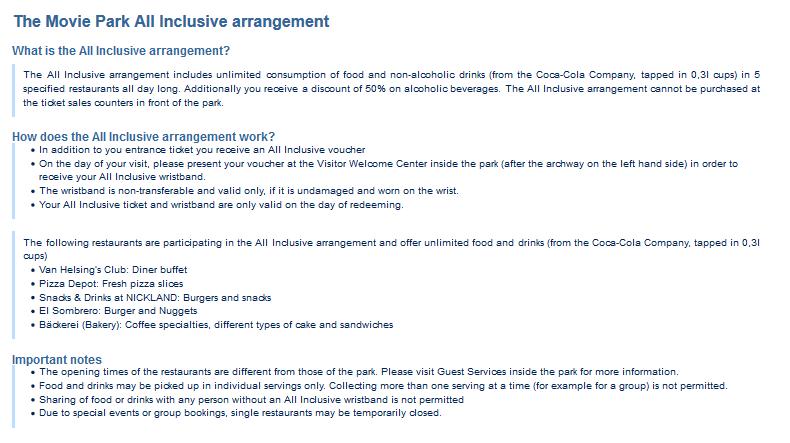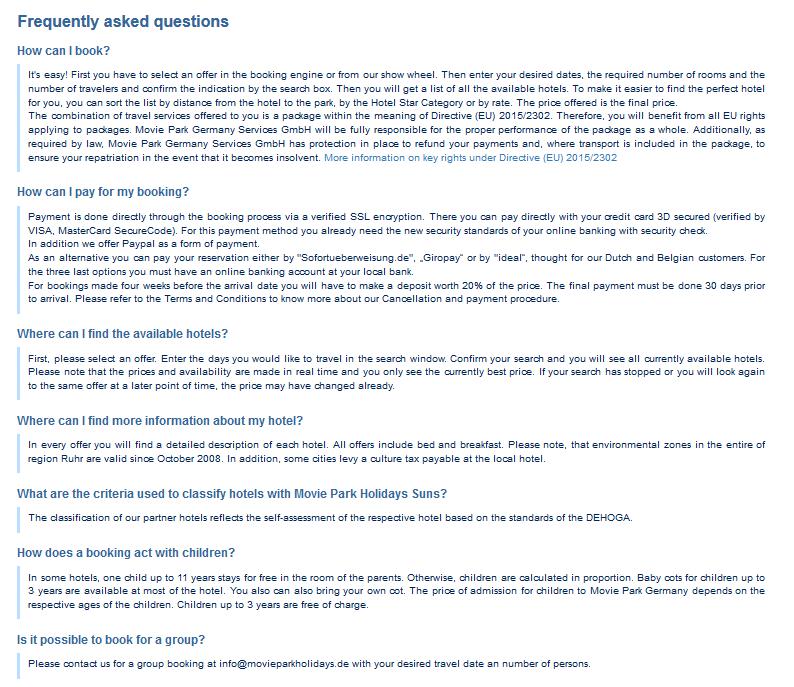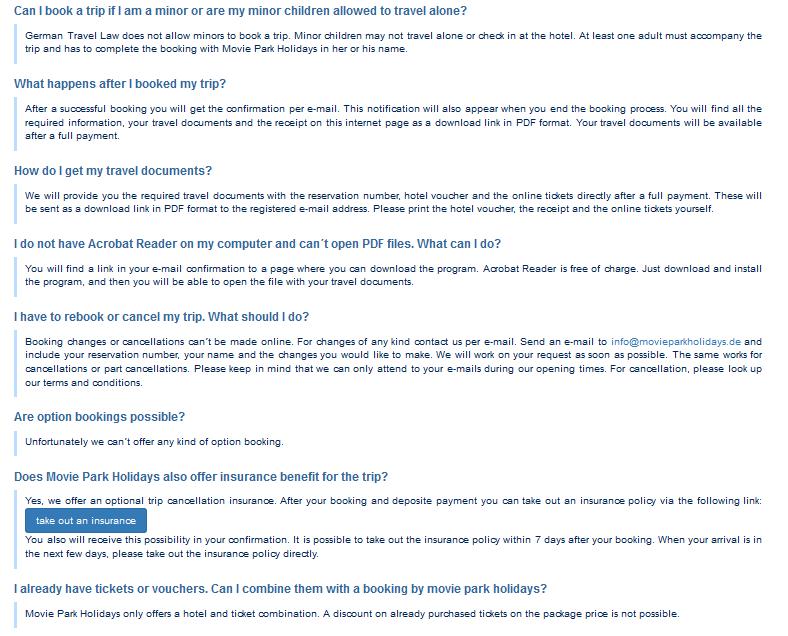 Movie Park Hotel selection
When booking with MovieParkHolidays.de you can choose from a variety of hotels. Here is an overview of the Movie Park with hotel deals.
The hotels that can be selected on the page are for example, the Gladbeck van der Valk Hotel, the Montana Parkhotel Marl, the Astoria City Resort, the Holiday Inn Essen City Center, the Hotel Zur Linde Schermbeck and many more Hotels. You can also select the hotels depending on the distance to Movie Park Germany.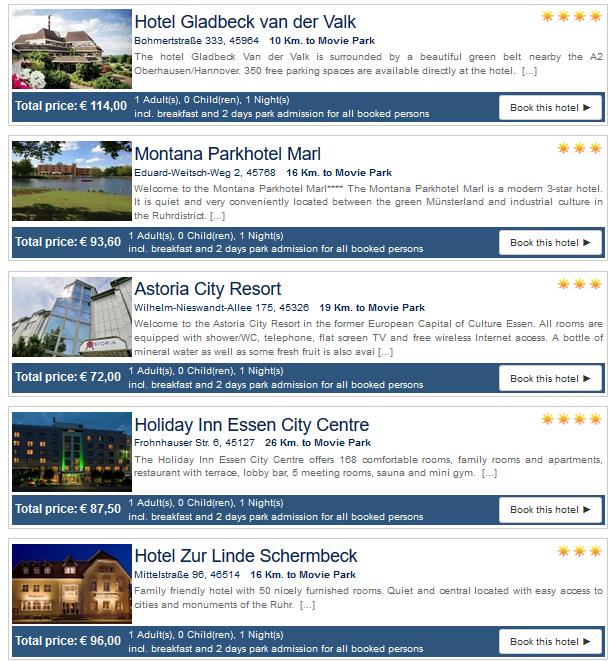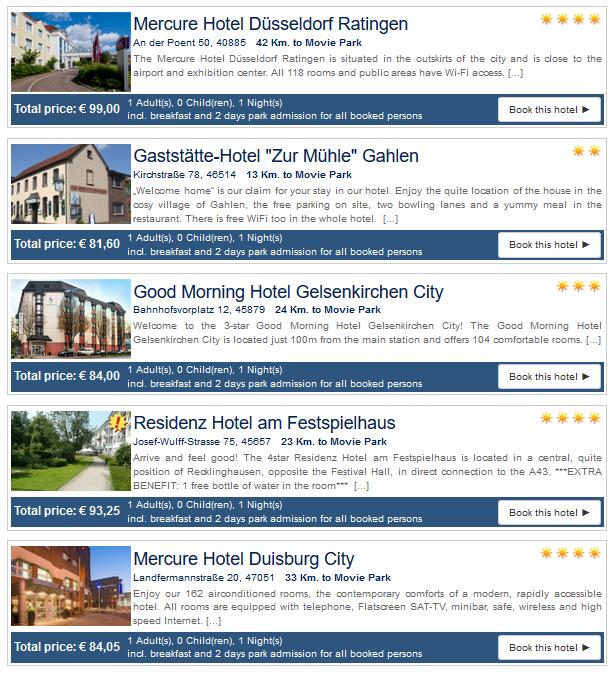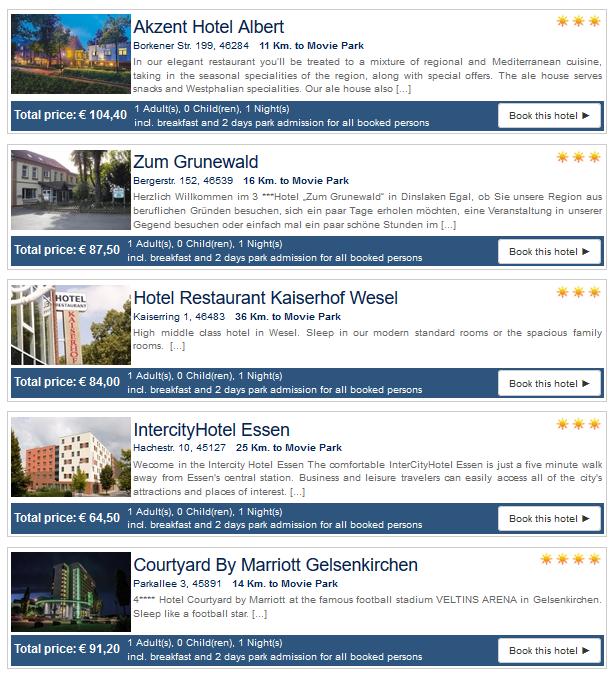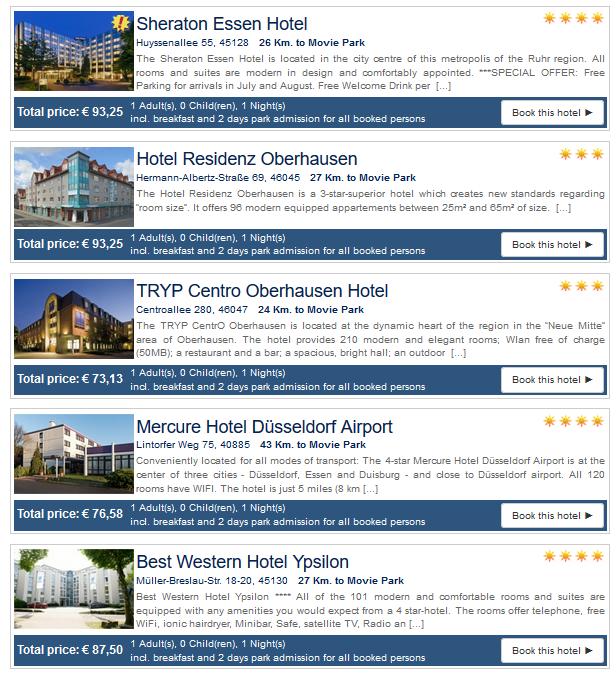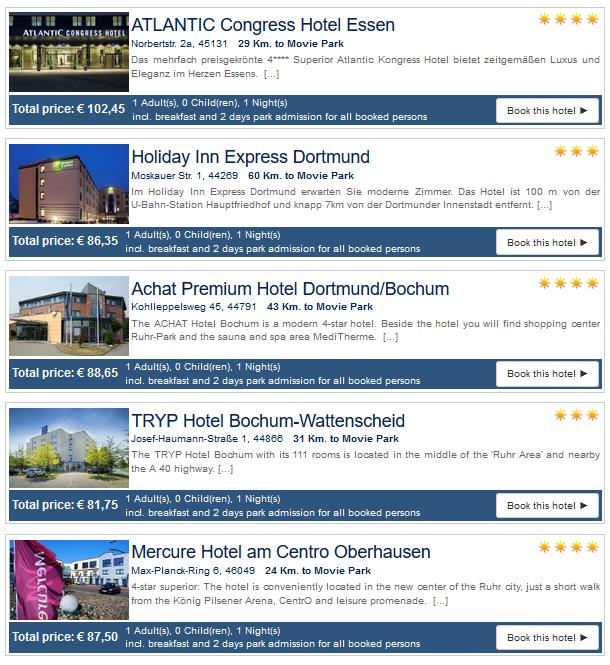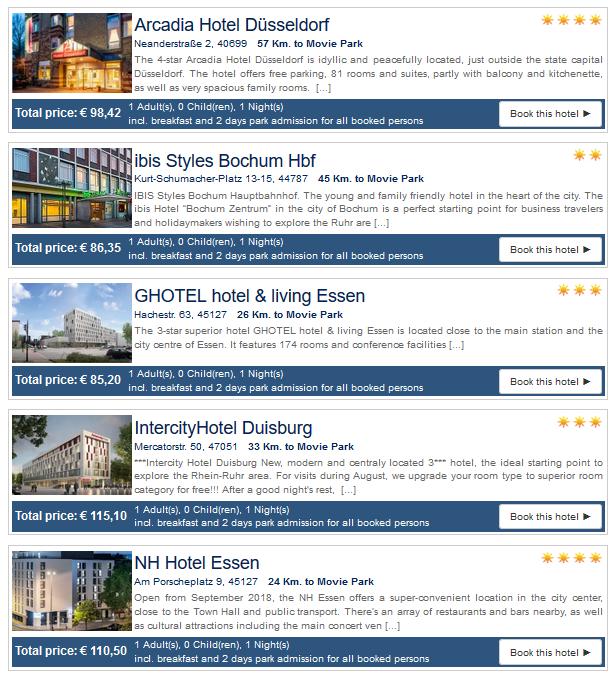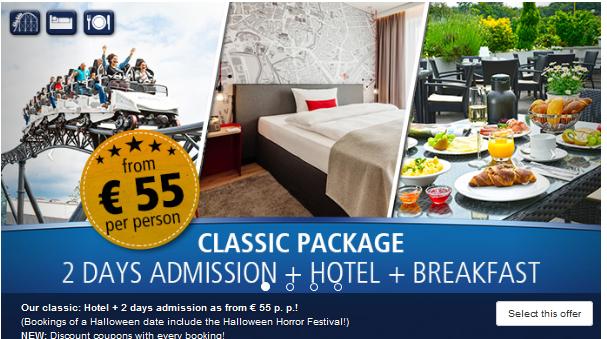 Reviews about the holiday park
Write us an email with your rating for the park:
A great park, we go every year at least 2 times with the children and look forward to this year.
The horror festival in November is always a highlight for us at the Movie Park. The children are looking forward to this year and want to go back in the summer.
A great park, we come every year from Holland to go on vacation to Germany. The park is always on our travel list.